FAREWELL, FARMERS MARKETS!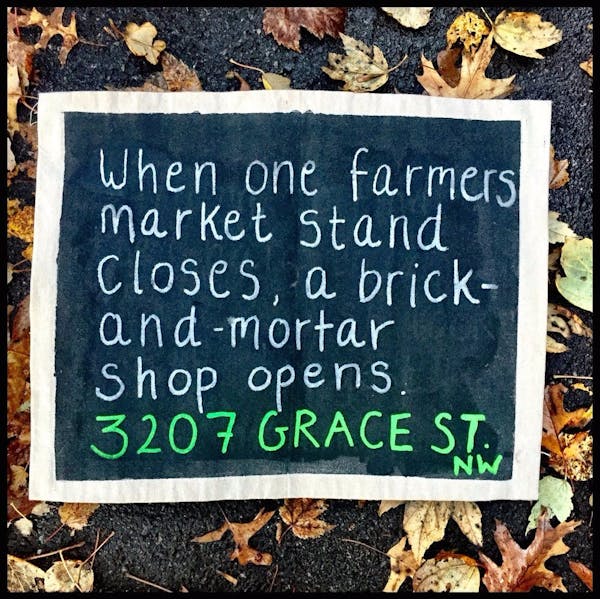 In preparation for the opening of our first shop in Georgetown, it is with great excitement and bittersweetness that we write you announcing our last White House FRESHFARM Market is TODAY Thursday, October 29th and our last Dupont Circle FRESHFARM Market is this Sunday, November 1st.

FRESHFARM Markets allowed Chaia to launch our business by testing out our local, seasonal tacos in an incredibly supportive community. Chaia's first brick-and-mortar store, soon to open at 3207 Grace St NW in Georgetown, is the direct result of efforts by FRESHFARM to develop and support local businesses like ours and of course, all of our enthusiastic, dedicated customers who visit our market stand each and every week.

Back in May 2013, Chaia's founders Bettina Stern and Suzanne Simon showed up at their first White House market with enough food to feed 50 people and sold out as fast as they could serve them. Since that first market day two and a half years ago, we have been so fortunate to serve hundreds of you every Thursday and Sunday. To be part of a community that values and celebrates fresh seasonal vegetables grown by local farmers means everything to us at Chaia.

So here's the biggest THANKS to all of you for supporting us at every step of the way. Our time at farmers markets is only the beginning for Chaia, and we can't wait to continue this Farm To Taco journey with you. Please stop by one of our last two markets this week because we have a small token of appreciation for you!
Help us spread the word that we are moving from the farmers market to our first shop in Georgetown! Exact opening date TBA.

3207 Grace St NW
Washington, DC 20007